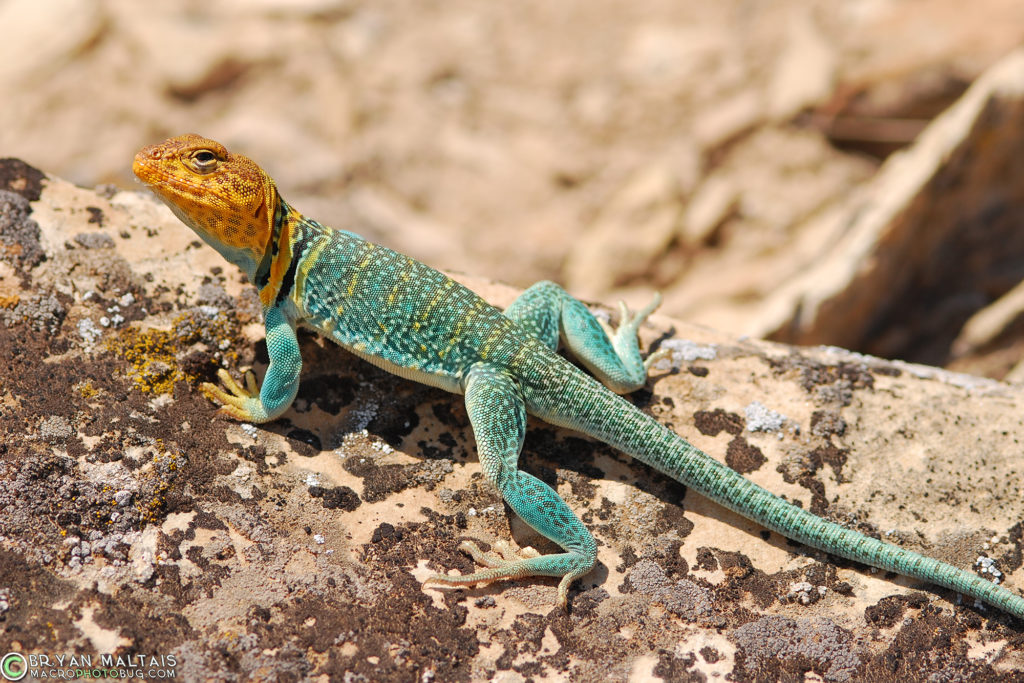 While Colorado isn't among the most herpetologically diverse states, it does harbor one of the most beautiful and behaviorally interesting lizards in the world, the Common Collared Lizard (Crotaphytus collaris). Collared Lizards have a surprisingly vast range across the southern half of the United States from Missouri to California. Habitats vary greatly from desert, to glades surrounded by forest, and from hot with minimal Winter to cold with a genuine Winter. Given that many populations are geographically isolated from one another and vary in coloration,  different habitats would exert slightly different evolutionary pressure, and I wouldn't be surprised if genetic testing reveals several subspecies as it has with many other reptiles in the recent past. Collared Lizards in eastern Colorado are separated from populations in western Colorado by the Rocky Mountains and have different coloration, though there should be gene flow through New Mexico.
The 14-42mm, perfect for "animal in its environment" shots, and surprisingly sharp with minimal corner softess for the price. If you're a serious landscape shooter you'll want to consider a higher end zoom though.
Collared Lizard hotel, there were 3 Collared Lizards perched on this outcrop before I showed up, probably a male and 2 girls
I like to visit the Collared Lizards in Colorado National Monument and eastern Colorado in June. That's the peak of their breeding season when both sexes are in prime breeding colors and preoccupied with each other. Females have striking orange spots and males have a vibrant turquoise body color. Though normally extremely fast and wary, it's possible to get close to them at this time. The behavior of the female in the picture below was quite surprising. She let me get close after I spent a long time making slow movements. After letting her adjust to my presence I slowly reached out to see if I could touch her and she actually let me "pet" her. She seemed quite comfortable as if she wouldn't take off so I wanted to see if I could take it a step further. I walked away to capture some grasshoppers and she actually ate them right out of my hand one after another. This was almost beyond belief to me.
As always, my goal is to spread awareness about wildlife, but necessarily to help people find them in the wild. I don't give out specific location info, please don't ask, because some people use it to collect the animals out of the wild, and tear up the countryside without putting rocks back in place.
A video I made about Collared Lizards in Colorado some years ago: