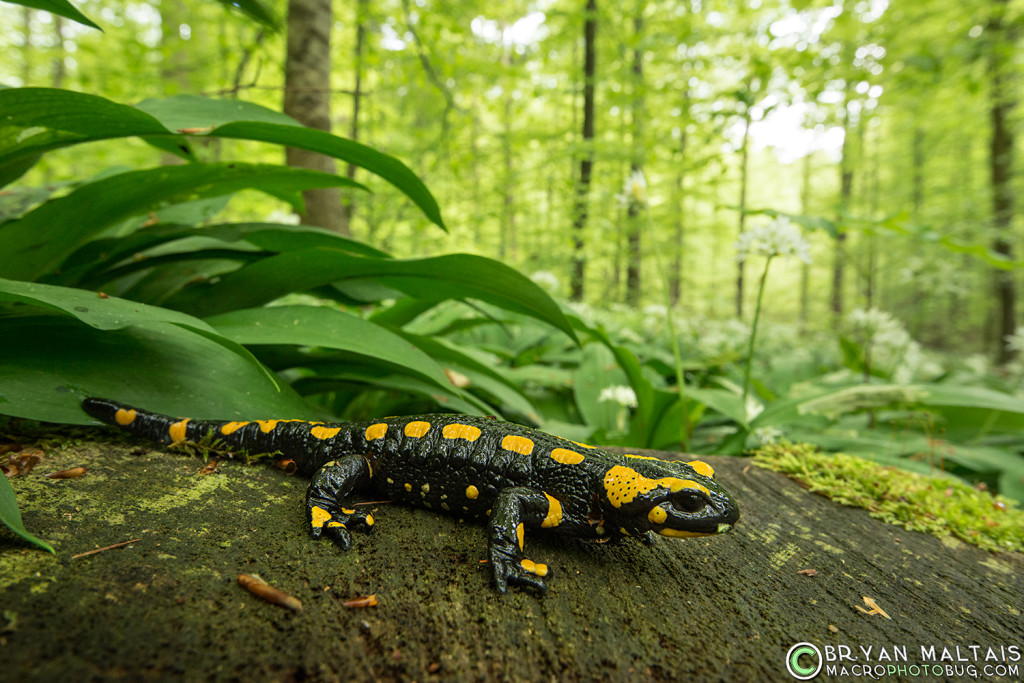 EXIF:
Camera: Nikon D800
Lens: Nikon 16-35mm @ 22mm
Configuration: Standard Mount
Extension Tubes: no
Image Stack: no
Stackware: n/a
Aperture: f/11
Shutter Speed: 1/30 sec
ISO: 1600
Flash: no
Stabilization: Handheld
Subject Size: 18 cm
Species: Fire Salamander Salamandra salamandra
Location: Denkendorf, Baden-Württemberg, Germany

Every few years I get to visit family in Denkendorf, Germany. It's a small town in the green rolling hills of southwestern Germany. Though the region is densely populated by humans, the Germans have engineered the countryside so that nature is still present everywhere. Even the largest cities are surrounded by stretches of forest and fields. The footpath system is also intricately developed, such that you can theoretically get to any 2 points in the country by foot without having to walk on a main road. Each day I'd set out for a wide-ranging hike through the many tracts of forest surrounding Denkendorf. The casual observer doesn't notice that these forests are heavily logged, but the selection cut method is performed very scientifically so that nature can persist. From March to May is the best time to find amphibians because it's their breeding season, and the Summer heat hasn't sent them underground yet. At this time of year the forest is extremely moist from frequent rain, and tiny streams are frequent. If you look close enough you'll discover that streams are full of the tiny salamander larva, which were live birthed in the past weeks. I've been infatuated with Fire Salamanders ever since I found them when I was a child. Though they're abundant in this region of Germany, elsewhere in Europe Fire Salamanders are in dire decline and some populations are already extinct. The culprit is a fungus that essentially destroys their skin called 
Batrachochytrium salamandrivorans
. This is a new a separate fungus from the already known amphibian killer, Chytrid.
A wide-angle lens is essential for "animal in its habitat" compositions. The Nikon 16-35mm is a fine lens for this purpose because it covers the focal lengths most needed. It also has effective vibration control, which contributed to keeping this photo sharp at only 1/30th sec. For Nikon DX cameras the 10-24mm zoom lens is the equivalent.